A regular reader of my articles sent me a message the other day asking me if I was still positive on iShares MSCI Hong Kong ETF (EWH). In my last article of 6th October 2021, I went through each of the top ten holdings and gave my view of those companies.
The reader's questions came from his interest in possibly including more exposure to emerging markets, without investing in an ETF that has too big exposure to a lot of mainland Chinese firms, such as Vanguard FTSE Emerging Markets ETF (VWO).
Is Hong Kong now just another city in China?
This was one of my reader's questions.
I was in Hong Kong Yacht Club overlooking the harbor on a very wet evening on Monday 30th June 1997 when they lowered the flag of the United Kingdom of Great Britain and Northern Ireland and hoisted the flag of the People's Republic of China. Seeing Her Majesty's Yacht "Britannia" sail away was truly a historic moment never to forget.
Many expatriates commented then that Hong Kong would become just another city in China, and it was hard to argue against that.
Fast forward 25 years and history books, depending on which country you live in, will most likely describe the event that took place in April of 2019 as a pivotal moment for Hong Kong. That was when roughly two million people took to the streets in April of 2019 to demonstrate against the Extradition Law Amendment, and we are now witnessing the subsequent gradual response taken by Beijing to curtail individual freedom.
Whatever is happening now would eventually happen. That is logical. Hong Kong is the sovereign territory of the PRC. Some of those that put their faith in western ideologies and concluded that there is greener pasture elsewhere have moved out, or are in the process of doing so. There has been a small reduction in the population that started in 2019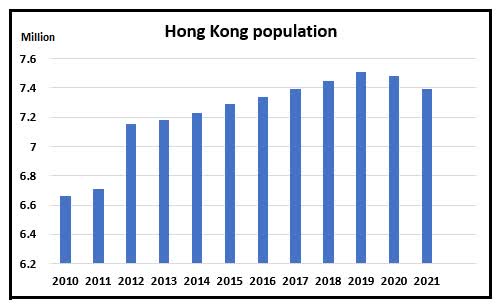 The figure for 2021 is based on a mid-year assessment.
Since September this year, Hong Kong has had five months of consecutive net outflow in travel. In my own opinion, the media like Bloomberg and Reuters, like to blow things out of proportion making readers think it is the end of the world. I do think it is premature to talk of a huge brain-draining and an exodus of talents. Surely, some talents are not willing to accept what seems like temporary draconian measures to fight Covid-19 and decide to throw in the towel and return to their homeland. It is expected that some of these talents will be replaced by mainland Chinese. If the financial industry is targeting Chinese people, like in the private banking and wealth sector this is not a bad thing.
Having said that, it does possibly erode Hong Kong's truly international status.
The English language is the only language that connects the world today, and I think it will continue that way. If we look at Hong Kong versus Singapore, where the English language is the official language, Hong Kong is not doing so well. According to a recent study, published by Human Resource Online, Hong Kong has only moderate proficiency ranking 32nd globally, with countries such as Kenya and Slovakia doing better than them.
Singapore, on the other hand, ranks 10th globally with high proficiency and topping all Asian countries. That should be of some concern to Hong Kong.
However, we should not look at Hong Kong in isolation and that it might become "just another city in China". Because we need to look at the larger Greater Bay Area, referred to as GBA in Southern China.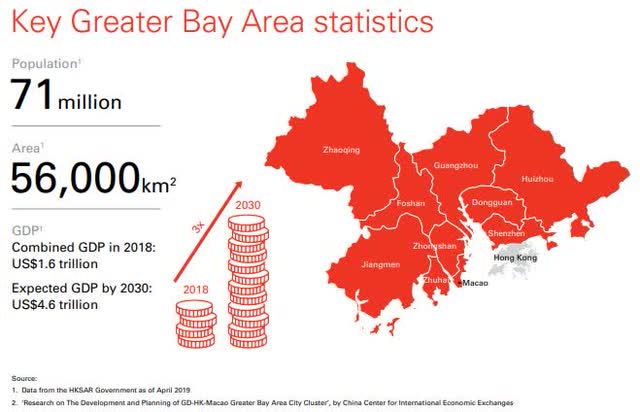 It is sometimes compared to other greater bay areas, such as San Francisco, Tokyo, or the New York metropolitan area.
Huge infrastructure has already been put in place, with bridges connecting the island of Lantau, where Hong Kong International Airport is located, with Macao. It is both the longest sea-crossing and the longest open-sea fixed link in the world with bridges and tunnels of 34 miles.
High-speed trains and highways are also built. Another USD 87 billion is earmarked for further infrastructure development.
Building all this is the easy part. The more difficult part is to bridge the softer parts like differences in laws, regulations, taxation, human behavior and so forth. They recognize this, and it will take some more time to integrate GBA into a more cohesive region.
I mentioned taxation because that is one reason Hong Kong does have an advantage at the moment. Their lower tax rate has for many years attracted Chinese companies and wealthy individuals. The maximum tax on private income in Hong Kong is 15% compared to China's 45%. Hong Kong's corporate tax rate is presently 16.5% against China's 25%
This gap is huge but might shrink with further integration within the GBA. With Beijing's concrete plan on taxing the rich more to share the fruits with all, Hong Kong will then have to increase their taxes to close the gap.
Each part of the GBA will be focusing on its own strengths.
Hong Kong will be the financial hub with auxiliary services such as legal services. It has the advantage of free flow of capital to and from the rest of the world and will act as China's offshore RMB center.
I believe Hong Kong Exchanges (HKCF) will grow in tandem with this as we already can see some increased interest from technology companies to list in Hong Kong as opposed to going public in the U.S. This is also promoted by Beijing and companies such as Alibaba (BABA) are learning that it is wise to please the establishment in Beijing too. Hong Kong Exchange is the second largest part of EWH's portfolio. As I said in my last article, at HKD 474 per share it was too expensive and I see other better opportunities to allocate capital to. Now Hong Kong Exchange trade at HKD 480
Shenzhen is the Silicon Valley of China. Apart from being the headquarter for Tencent, there are more than 45,000 companies involved in high technology manufacturing in the region.
Macao will remain the center for recreation and entertainment. There have been some concerns about the future of the casinos, as Macao's authority is trying to tighten scrutiny of casinos clamping down on illicit capital flows from mainland China and targeting underground lending and illegal cash transfers.
The shares of Sands China (1928.HK) did not do well in 2021 as they fell 47.5%.
Guangzhou is the hub for transportation and advanced manufacturing.
Hong Kong used to be the world's largest container port based on throughput but has since lost this to Shanghai. However, when we combine Hong Kong with their GBA ports of Shenzhen and Guangzhou we can see the scale of this being far the largest "port" in the world with a total of 69.81 million TEUs in 2020.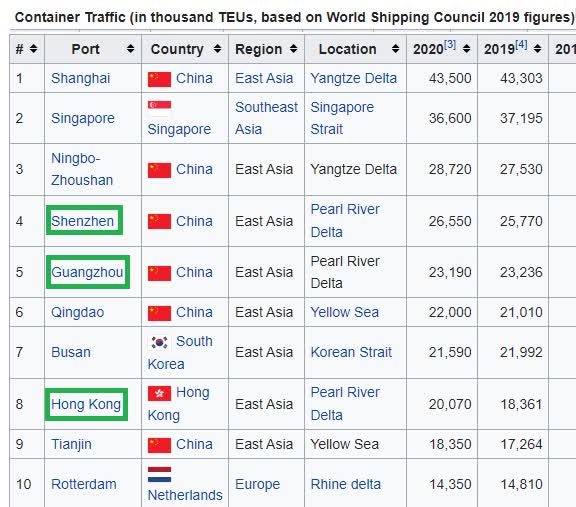 I am still invested in Hutchison Port Holdings Trust (OTCPK:HCTPF) and did in fact add some to the position last year.
They operate 38 berths in Hong Kong and Shenzhen across 647 hectares of land. In 2020 they delivered a combined throughput of 23.7 million TEUs. In 2020 they made a profit attributable to unitholders of HKD 831 million. The 12-month trailing distribution is 14.2 HK cents which gives you a dividend yield of 7.8% based on the present price of USD 0.235 per unit. It's price to net tangible book value ratio is 0.68
They are confident about the future of the GBA.
In June last year, they decided to expand their port in Yantian International Container Port in Shenzhen. This port has become one of the busiest container terminals in China. This new investment covers about 120 hectares of land with 140-meter quay length. HPHT will take a 50% stake and run the terminal, with a local partner taking the other stake. The total cost of this terminal is estimated to be USD 1.68 billion.
On the topic of moving containers, you must have heard about the famous Belt and Road Initiative connecting the old silk road and investing billions into infrastructure along these trade routes.
On the 18th of January, Chinese government media reported that the GBA launched its first cross-border e-commerce China-Europe freight train departed from Guangzhou on 18th January bound for Odesa in Ukraine. The train is set to arrive in Odessa in about 16 days, carrying goods like household appliances, communication equipment, and household items held in 50 containers. Mega vessels sailing out of Hutchison's ports carry 24,000 containers.
Let us look at how WWH has fared since I last gave my positive call on it.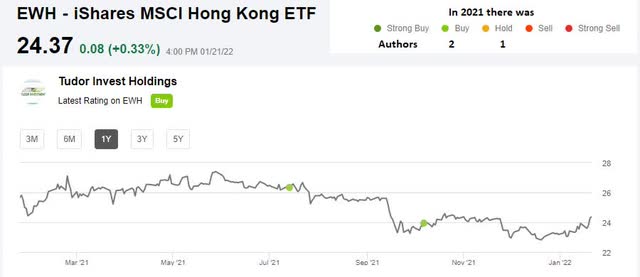 Are there other better exposure to Asia
We get back to my reader's question of whether there are any better alternatives to EWH.
I have covered Singapore (EWS), and will now also cover Taiwan (EWT).

Which one would I prefer over the others?
Blackrock iShares EWS – Singapore ETF
There is very little news or change of my mind since my last article "Singapore A Dull But Fairly Safe Stock Market". You should read this to get my view of Singapore's stock market. As can be seen from the comparison between the four Asian (ex. Japan) ETFs from Blackrock, Singapore, and Hong Kong have tracked each other fairly well in the past.
Having lived, worked, and done business in both of these cities I often get asked which one I liked the best. A loaded question, very similar to "which of your kids do you favor"?
Singapore does have the advantage of being a sovereign state, which Hong Kong never was and never will be. It also has what I consider to be a very good government, which always asks themselves the most pertinent question which is "what is Singapore's relevance"?
Why would people choose to do business in and with Singapore? The same basic principles that put Singapore on the map over the last 57 years since its independence are still guiding it.
It might be difficult for Singapore's stock market to reach the size and breadth that Hong Kong offers, simply because Hong Kong is a part of the second-largest economy in the world. But I think Singapore does have a sort of "safe haven" status in times of turbulence and uncertainties. A physical safe place and a safe currency too. We are living in quite troubling times in terms of geopolitical events and a safe place to park yourself and/or your money might have value in the future.
Lee Kuan Yew had many wise words, and I believe he once said that he wanted Singapore to be the "Switzerland" of Asia. Singapore is close to China and to the U.S. Friendly and diplomatic to all. Many worldly leaders should take a lesson from it.
Blackrock iShares EWT – Taiwan ETF
The best performing Asian iShares ETF has been EWT. Last year it decoupled from China and rocketed ahead while China went down. EWT was up 28.4% last year.
Its portfolio is heavily invested in Taiwan Semiconductor Manufacturing (TSM) with nearly 22% of the total portfolio.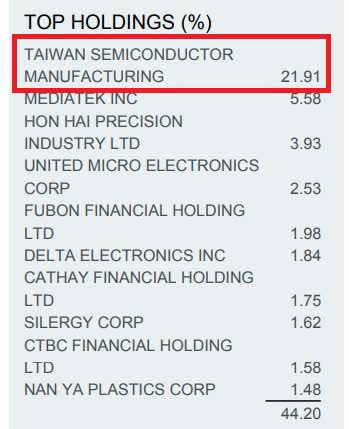 We have all heard of the shortage of microchips last year forcing many manufacturers, such as car manufacturers, to stop some of their production because they did not have stock.
With such a large concentration of TSM in the portfolio, I think it begs the question of why buy EWT? Why not just buy TSM?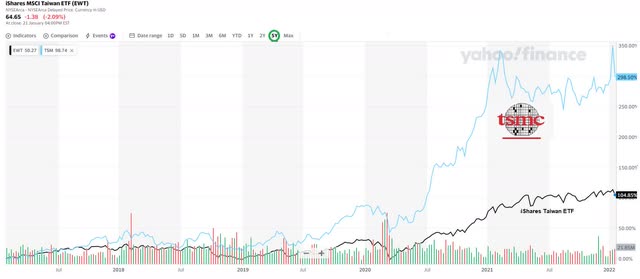 It has certainly been a good investment to hold EWT and even better if you just bought TSM.
However, I am concerned about what would happen to stocks of companies in Taiwan should China escalate the tension across the strait or even outright invade it.
This risk precludes Taiwan as a geographical area for me to invest in, at this moment in time.
Conclusion
I have divided my portfolio quite equally between Singapore and Hong Kong. Each market has its own strength and should both do well in the future.
Taiwan is not on my watch list. If I want exposure to microchips, I think that I would rather buy Advanced Micro Devices (AMD). But that is an area where I have no competence and I have no idea how long that market can stay firm.
I would say why not divide your portfolio 50/50 between EWH and EWS like I have done with my individual companies?
If I have to choose just one, I would have to turn to home bias like most investors and choose EWS.
There are many reasons why I have decided to call Singapore, and not Hong Kong, my home.