Cathie Wood's investment funds have become well-known among investors. During the Covid-19 period, the ARK Innovation ETF (ARKK) delivered significant alpha to investors. With growth stocks currently being pounded and entering a bear market, investors may be in for a long period of negative returns.
What Is The ARK Innovation ETF?
ARKK is an actively managed exchange traded fund that seeks to grow investor capital over the long term. The ARK Innovation ETF invests primarily in domestic and foreign (non-U.S.) equity securities that have a high probability of delivering excess returns to the fund and its investors.
The underlying theme of ARKK is "disruptive innovation." Companies that promise to disrupt the way business is done or services are provided are sought out and heavily invested in by the fund. Companies in industries as diverse as genome revolution, automation transformation, energy transformation, artificial intelligence, fintech, and next-generation internet are examples of such enterprises.
The ARK Innovation ETF portfolio is also extremely concentrated, with 10 positions accounting for nearly half of the portfolio's assets. Portfolios with a high concentration, such as ARKK, expose investors to wild swings in net asset value, the key benchmark for an exchange traded fund.
The concentrated ARKK portfolio, which is purposefully structured around high-growth stocks in disruptive sectors, can either outperform or underperform a much more broadly diversified stock market index, such as the S&P 500. In essence, an actively managed ETF like ARKK is similar to actively managed mutual funds, which have a poor long-term investment track record overall.
Tesla (TSLA), streaming device maker Roku (ROKU), cryptocurrency marketplace Coinbase (COIN), Zoom Video Communications (ZM), and other stocks that fit the fund's criteria of "disruptive innovators" are among the top ten holdings of the ARK Innovation ETF. Tesla has by far the largest portfolio position in the ARKK portfolio, with a weighting of nearly 8% at the end of 2021. A more detailed breakdown of Cathie Wood's ARKK investments, which extends beyond the top-ten holdings, can be found here.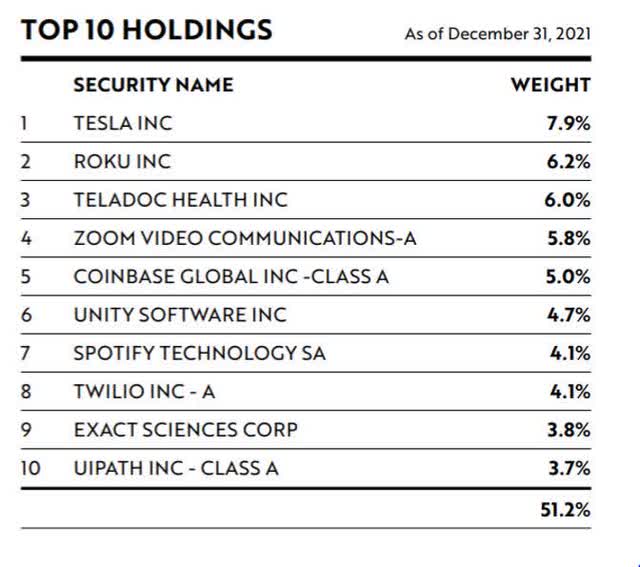 In terms of sector performance, the ARK Innovation ETF investment portfolio favors information technology (33%), health care (32%), and communication services (16%). Financials and Industrials are currently minor holdings in the portfolio.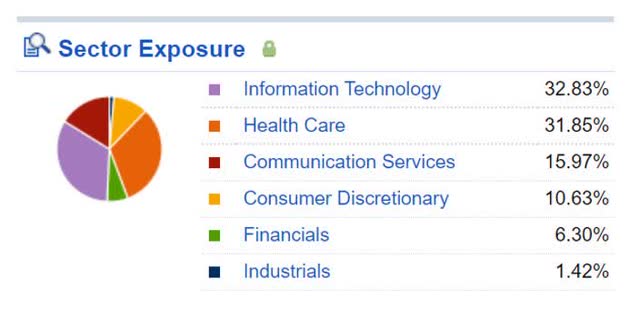 ARKK Posted Big Gains During The Pandemic
ARKK performed admirably during the pandemic, delivering significant alpha. Cathie Wood's flagship fund's net asset value skyrocketed during the pandemic as smart bets on stay-at-home stocks and other pandemic winners paid off.
However, with tech stocks crashing in recent months, the thematic investing bubble has burst, potentially leading ARKK investors into a period of subpar returns.
In 2015, a $10,000 investment in the ARK Innovation ETF was worth more than $80,000 at the start of 2021. However, as the recent tech rout has gained traction, the ETF portfolio's net asset value has dropped dramatically. An $80,000 investment in ARKK at the beginning of 2021 is now worth less than $60,000.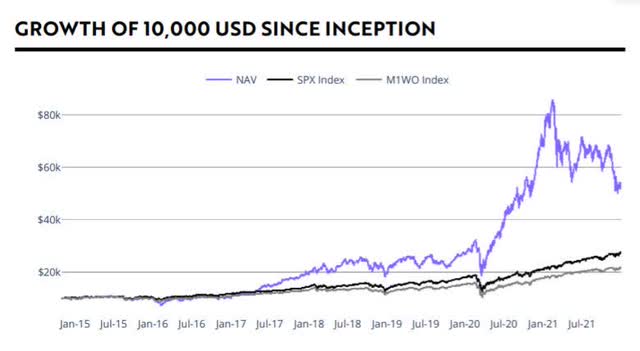 NAV Outperformance Is Unlikely To Persist Long Term
It is extremely difficult for fund managers to outperform a benchmark stock index like the S&P 500, and the evidence is overwhelming. Funds will have periods of excess returns, but these periods will not last forever. Economists refer to this phenomenon as "reversion to the mean." Periods of underperformance frequently follow periods of alpha generation, and the ARK Innovation ETF has produced significant alpha since its inception (even though the majority of excess returns were created during the Covid-19 pandemic).
Since its inception, the ARK Innovation ETF portfolio has generated approximately 26% annual returns on its net asset value, while the S&P 500 stock market index has gained only 15% annually.

Growth Stocks, With Few Exceptions, Are Still Hopelessly Overvalued
Many of Cathie Wood's stock picks in the ARKK portfolio are still overvalued, despite having dropped by double digits (in percentage terms) since the year began only three and a half weeks ago. ARKK's top portfolio holdings all have sales multiples that are becoming increasingly difficult to justify in a market that is becoming more price-conscious. In addition, the market is experiencing a "great rotation," which means that investors are selling pandemic winners and cycling capital into the value sector.
The ARKK portfolio's overweighting of these high-multiple stocks makes the ETF's net asset vulnerable to the recent market rout in the tech sector. If you look at ARKK's core holdings, such as Tesla, Roku, Shopify (SHOP), Spotify (SPOT), Zoom, or Teladoc Health (TDOC), to name a few, you'll notice that the majority of them trade at sales multiples that would be nearly impossible to defend under normal conditions. While many of these companies have long-term growth prospects, it is questionable whether they will be able to maintain such high sales multiples in the absence of the pandemic.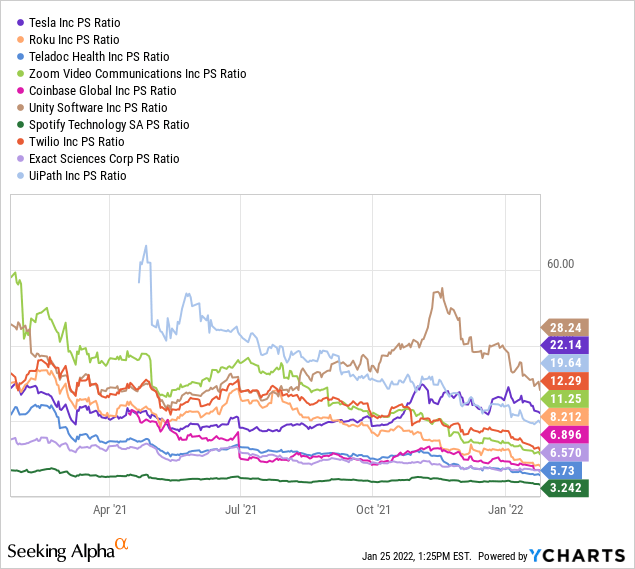 ARKK's core holdings have performed especially poorly in 2022.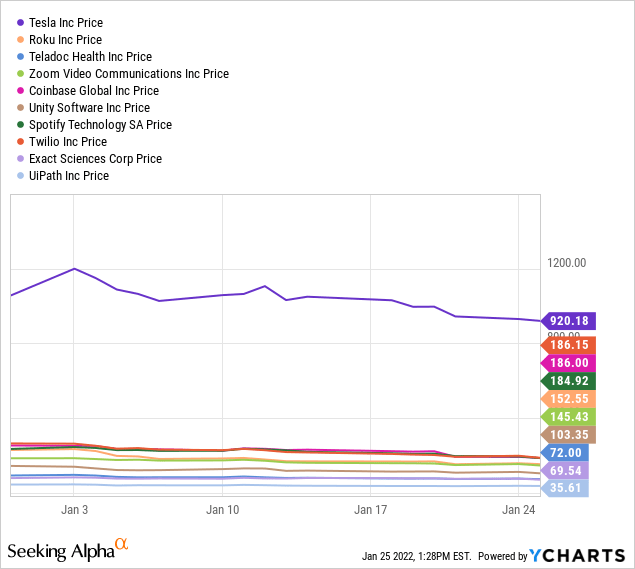 Concentration Risks And Potential For Below-Market Returns
The extremely high concentration (the top ten stocks account for half of the ARKK portfolio) exposes investors to extremely high risks. All ten of ARKK's top holdings have very high valuations and may see a deterioration in growth prospects, implying that they all have a significant downside.
If the tech sector continues to fall out of favor, as it has, ARKK's net asset value could plummet dramatically. The fact that the fund is overweight one of the market's highest multiple stocks (Tesla, Zoom) does not help investors limit downside risks.
My Conclusion
No fund can outperform the major stock index indefinitely. ARKK did well during the pandemic, but the thematic investing bubble is about to burst. Valuations in the "disruptive innovation" category have plummeted, with all of ARKK's core holdings down double digits since the start of the year.
The ARKK portfolio is especially vulnerable to further declines in tech valuations due to its overweighting of high-multiple stocks. Thematic investing performs well for a period of time before investors move their money elsewhere. In my opinion, the majority of ARKK holdings are still overvalued, and the ETF is at high risk of generating negative alpha in the short and medium term.