Over the past couple of years, Cathie Wood has gained a lot of attention in this market. Her ARK Invest funds saw spectacular gains in 2020 thanks to easy money policies and the success of Tesla (TSLA), but things haven't been so great over the last year or so. In recent weeks, while both her flagship fund and many of its holdings have dropped to new lows, her buying habits have certainly changed, making me wonder what's going on here.
Shares of the ARK Innovation ETF (ARKK) finished last year at $94.59, but they've dropped to less than $60 this week. As many of its components have dropped substantially, especially with some high profile earnings blowups – Roku (ROKU), DraftKings (DKNG), 2U (TWOU), to name a few – the ARKK ETF has stepped in and increased its holdings. However, despite many of the holdings dropping to new lows in recent weeks, a strange pattern has emerged. The image below shows the daily trades for the ARKK ETF that were sent out, with a number of days having no trades for the firm's largest fund.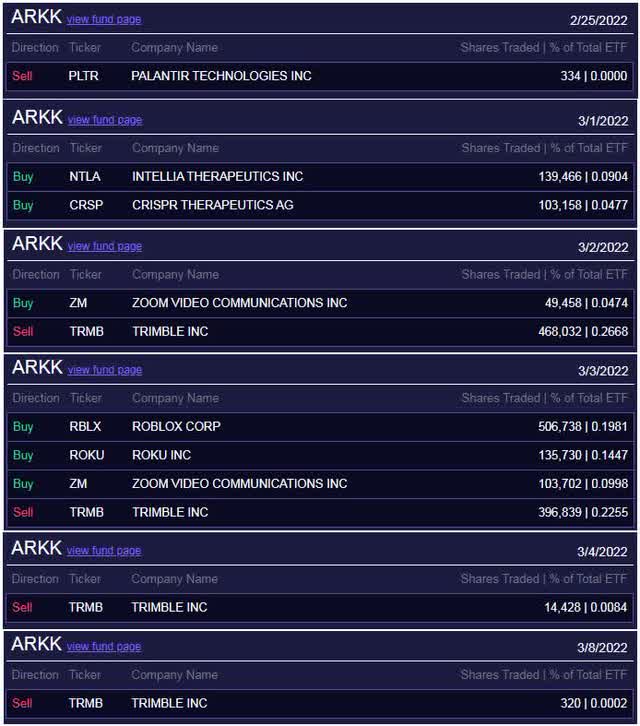 So far this year, a number of ARKK positions have been completely liquidated to fund purchases of other names. I previously detailed how Cathie Wood turned quite quickly on DocuSign (DOCU) for instance, completely exiting the name in ARKK just weeks after she was a major buyer. So far this year, the ARKK ETF has completely liquidated its holdings in DocuSign, 3D Systems (DDD), Editas Medicine (EDIT), Twitter (TWTR), Iovance Biotherapeutics (IOVA), Skillz (SKLZ), Iridium Communications (IRDM), Palantir (PLTR), and now Trimble (TRMB) with the final sale on Tuesday seen above. For a time there were also sales ongoing for 10x Genomics (TXG), but recently the ETF started buying a little bit of that name again. Many of the names above have also seen positions greatly trimmed or eliminated from other ARK Invest ETFs as well.
I showed the above trades because in the last couple of weeks, the sales of Palantir and Trimble were funding most of the purchases. From day to day, there is also a small cash position in the fund. When inflows or redemptions occur, the ETF increases or decreases all of the holdings across the board by a given percent (done equally, based on their weight), and a slight difference in those buys and sells leaves some additional cash at times. However, for ARKK to meaningfully increase allocations to one or more names over time, it really needs to sell other holdings to raise cash.
In the past week and a half, a lot of the buying has seemingly dried up. Only five names have seen their allocations increase, and there's only been a buy in ARKK on 3 of the past 8 trading days. Cathie Wood was on CNBC's "Halftime Report" on February 17th talking about how innovation names are trading at huge discounts currently, yet recently as these names have fallen further, her buying spree has come to a halt. For those curious, this is not due to overall redemptions in the fund, as ARKK has actually had net inflows in recent weeks. To illustrate the key point here, more than a third of the holdings in ARKK hit new 52-week lows on Tuesday, and quite a few others are within a stone's throw of getting there. However, there have been no purchases over the past three trading days.
Cathie Wood has said that in times like these, she consolidates the portfolio down to her highest conviction names. On the face of it, that certainly has been the case with ARKK this year, which has gone from 43 holdings to just 35 after Trimble's exit on Tuesday. However, it also seems a bit contradictory when you see that Cathie Wood seemed so bullish on Tesla only to sell a majority of her position. Despite a $3,000 price target, Cathie spent more than that five months selling nearly 3 million Tesla shares on an allocation basis across the three major ETFs that owned it. For about a month recently she bought some Tesla shares back, but it was just around 170,000 in total, and some of the purchases actually came at prices higher than what she was selling them at for last year.
So what's going on here? Well, it appears that we've reached a point where Cathie Wood is unwilling to sell any of her current holdings to fund purchases of others. She wouldn't admit to being wrong during some of those media appearances, but the market has certainly said otherwise. My question is why is she so keen on holding on to every last one of these major losers? There are seven names that have less than a 0.9% weight in the ARKK ETF currently. Even if one were to double from here it won't add much to the return of the total fund, especially when the ETF has moved by several percent in a single trading day numerous times recently.
If Cathie Wood and her team have such a high conviction on all of these names, wouldn't they all just be equally weighted in the fund? You wouldn't have some holdings representing nearly 10% of the ETF and others below 0.3%. Remember, other than the famous price targets and models that ARK Invest has put out for Tesla, the firm has not put out anything close to that for any other name it has owned. Tesla has even lost its top spot in the ARK Next Generation Internet ETF (ARKW) at times recently to Coinbase (COIN), but I haven't seen ARK Invest come out with any super high price targets or extravagant models on that name.
In conclusion, there seems to be some unusual activity going on with the ARK Innovation ETF. Allocation purchases have slowed to a crawl over the past week and a half. Those buys that have happened have primarily been funded from the sales of Trimble, which ARKK has now completely exited. More than a third of the ETF's holdings hit new 52-week lows during Tuesday's trade, with many more being very close, and there have been no purchases for three days now. It certainly seems that the ETF is stuck in this situation until Cathie Wood chooses a new name or names to sell, but perhaps that would be an admission that she has been completely wrong here.