The creator economy is growing as more homegrown creators turn content into cash
Article content
After years of neglect, Canada's creator economy is finally getting some recognition — and some money to go with it.
Article content
The creator economy, made up of individuals and businesses making content on social media platforms and the organizations that support them, is growing as more homegrown creators turn content, such as videos, into cash. Early stage investment funds have taken notice, and are starting to sink money into creators working with platforms that include Alphabet Inc.'s YouTube, Meta Platforms Inc.'s Instagram and ByteDance Ltd.'s TikTok. Meanwhile, resources and organizations designed to foster influencers' growth are also cropping up, priming the industry for a new era of growth in Canada.
Article content
"Canadian influencer talent, for better or worse, has predominantly been hard to find. I don't think there's a lack of talent here. I think it's the lack of opportunity," said Matt Roberts, managing partner at ScaleUP Ventures Inc. which led a Series A financing round in 2018 for Toronto-based creator marketing company Hashtag Paid Inc., which stylizes its name as #paid.
Article content
"Up until now, it's been very ad hoc how all these (stakeholders) work together," he said.
Creators are contributing no small amount of money to the Canadian economy. The exact figure is hard to pin down, but in 2021, YouTube Canada alone contributed $1.1 billion to the country's gross domestic product, an Alphabet-commissioned report by Oxford Economics said, and the number of YouTube channels earning $100,000 or more annually rose 35 per cent year over year.
Around the world, there are more than 50 million people who consider themselves creators, according to SignalFire, a venture capital firm in San Francisco. Across all major platforms, there are more than two million professional, full-time creators, while more than 45 million call themselves part-time, amateur creators. Estimates of the size of the global creator economy hover at above US$100 billion.
Article content
So far, the path to homegrown success hasn't been easy for Canadian creators, especially for those producing content in crowded niches such as comedy. Canada's creator ecosystem has historically been too small to support influencers' brands, Roberts said. That has forced many fledgling influencers to pack up their gear and leave the country completely to build their careers. One popular destination is Los Angeles, California, home of Hollywood and a key market for social media stars, where you can't turn a corner without bumping into a talent agency.
That's exactly where Inanna Sarkis went when she embarked on her acting and social media career. In 2016, the Woodbridge, Ont., native completed her criminal justice degree, left her condo in downtown Toronto and hopped on a plane to L.A.
It was there she began her meteoric rise on social media, gaining thousands of followers by the day, which helped boost her chances of landing an acting role at auditions. Before video app Vine, owned by Twitter Inc., shut down in 2017, she amassed more than 100,000 followers. Sarkis currently has close to four million subscribers on YouTube and 15.2 million followers on Instagram.
She's now been in movies and a handful of television series, most notably a horror flick released last year called Seance.
Article content
"L.A. was so advanced and everyone was literally already creating so much content at the time," Sarkis said of the creator climate in 2016 via video call from her Los Angeles home. "There was already built-in infrastructure because of the acting world."
It was through acting classes that she met some of the rising stars who went on to dominate Vine, the popular social media app of the time, known for its six-second video format. She first met Melvin Gregg — now an actor in the show Nine Perfect Strangers on Amazon.com Inc.'s Prime streaming service — who then introduced her to the likes of King Bach, DeStorm Power and Anwar Jibawi, all stars in their own right. Together they built a support system to foster each other's creativity.
Article content
"Everyone who wanted to act or wanted to create, they all moved into one building, which was (known as) Vine Street in Los Angeles. You would go outside and there'd be Viners in every corridor creating content," she said.
It was a far cry from what she experienced in Canada.
"When I came back to Toronto … (Vine) was just this thing that existed and (people) would watch it but never really create content for it," Sarkis said.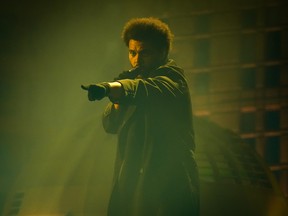 Another industry-watcher saw opportunity in that dearth of support for Canadian content creators. Ahmed Ismail founded Hxouse, an incubator for creators, in 2018 with his friends Abel Tesfaye, the popular R&B singer known as The Weeknd, and La Mar Taylor, The Weeknd's creative director.
They envisioned Hxouse as a space in Toronto's east end for aspiring creative entrepreneurs to learn through mentorship programs, networking opportunities and educational sessions about how to innovate and capitalize on opportunities in the creator economy.
Article content
Through Hxouse, creators gain access to the knowledge the three have gained from their connections to the entertainment industry. "You (get) to learn from the best of our friendships and our relationships," Ismail said.
In September, Ismail launched CNCPT in partnership with YouTube Canada, an iteration of Hxouse's initial offerings meant to target budding Canadian creators. YouTube Canada is funding a separate space in Hxouse's offices for creators, new and seasoned, to shoot content and use tools such as cameras and editing software.
The two companies are still working out the kinks of what CNCPT will become, but YouTube said it will provide $100,000 grants for creative entrepreneurs to accelerate their online businesses. It also plans to fund and help create the curriculum for two annual accelerator programs beginning early next year that will be free for participants.
Article content
Block brings buy now, pay later to Square in Canada

Video-game maker Behaviour Interactive's CEO sees reason for optimism amid spectre of recession

Indigo's new CEO Peter Ruis hopes to make retailer 'bigger and bolder'
Ismail said the collaboration with YouTube is a step in the right direction for the local creator economy.
"This is how we help build Canadian talent pipelines so more creatives and entrepreneurs realize their potential and find success and also stay in Canada while they're still global phenomenons," he said.
Ismail and his team are betting the creator economy will take off in Canada. The XO Crew, the name of The Weeknd's label and associates, joined ScaleUP's Roberts in the $18.9-million Series A round that #paid raised.
Article content
Other businesses that help manage marketing deals between brands and creators are also popping up. Adrian Capobianco, founder of BILI Inc., launched the Because I Love It platform earlier this year aimed at connecting creators and influencers with businesses seeking to make advertising deals. In June, the company raised $600,000 in its first seed round and is currently trying to raise money for a second financing round.
"The creator economy is not just an economy in the dollars and cents aspect. It really is a very robust ecosystem for creators, for influencers and for brands," Capobianco said. "Interest from brands is growing rapidly and interest from creators continues to scale."
• Email: bbharti@postmedia.com | Twitter: biancabharti